the week of march 11-17, 2023
everything everywhere
You're reading 
Nothing for the Group
, a newsletter where one dramaturg rounds up one week in theatre news, reviews, and takes. If you like this sort of thing:
The Friday weekly round-up is always free — no gods, no masters, no paywalls — but if you'd like to sustain this project (and get access to occasional bonus content), you can upgrade to a paid tier.
If you want to say hi (or send me a press release), you can 
email me
, tweet 
@halvorsen
, or just reply to this email.
an update on the cleveland play house debacle
To recap: in January, playwright Charly Evon Simpson pulled the rights to her play I'm Back Now weeks before its scheduled world premiere at the Cleveland Play House. Simpson and director Stori Ayers withdrew from the production after an actor was sexually assaulted in company housing and CPH grossly mishandled the aftermath. After issuing one of the worst public apologies I've ever read, the Cleveland Play House announced a series of changes, including:
The new initiatives dropped in the wake of additional public pressure and testimonials from former employees. First, a group of BIPOC artistic and executive leaders wrote an open letter to the theatre's leadership, condemning CPH's retaliatory press statement and demanding accountability: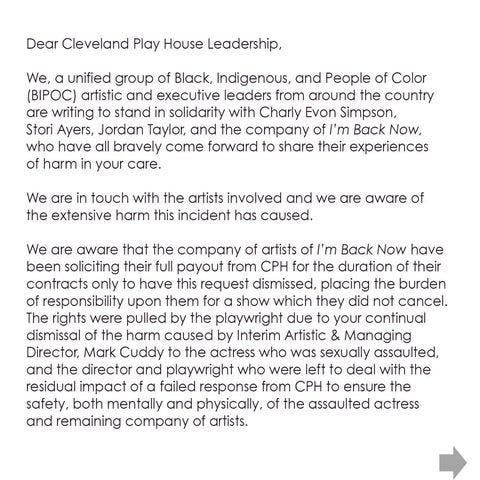 Actor Molly Hernández, who appeared in CPH's American Mariachi last fall, publicly shared that she had previously raised concerns about the safety and conditions of artist housing. Hernández said she was drugged at a nearby bar CPH recommended to visiting artists — and that the theatre continued to recommend the establishment after her experience.
Former managing director Collette A. Laisure — who left in October 2022 after joining the theatre in an interim capacity in February 2021 — wrote about her difficult tenure: "It angers me that my presence as the first woman of color (black woman) to serve as managing director was not enough to disrupt this egregious behavior and disrespect."
Cleveland Play House is currently searching for a permanent artistic director and managing director — and I think an overhaul of that board is equally needed.
---
in-person theatre
digital theatre
---
2023 season updates
---
2023-24 season announcements
---
the regional theatre game of thrones
---
things i read this week when i wasn't losing my oscar pool
Nothing for the Group is a reader-supported publication. To receive new posts and support my work, consider becoming a free or paid subscriber.